From the Superintendent
Going back to the founding of our nation in the 1770s and 1780s, Americans have always placed a special premium on citizenship and its intrinsic ability to further our democratic way of life. In fact, the earliest publicly-funded school in Boston originated from a desire to promote citizenry. Today, not surprisingly, citizenship remains one of the core attributes of public education and its promises for the next generation of Americans. MSAD 51's vision includes language that strives to teach students about the importance of "communicating with diverse audiences, bridging geographic, linguistic, ideological, and cultural barriers."

Much has been written about the so-called '21st Century Skills' and their importance in preparing young people for their future in this world we all share. Though each of these identified skills is considered critical unto itself, the one that I believe holds special significance is citizenship. Without a foundation for healthy citizenship, the other skills of collaboration, critical thinking, creativity, and communication are of little value. Specifically, a responsible and involved citizen is one who:
• Participates positively in the community and designs creative solutions to meet human needs and
wants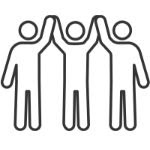 • Accepts responsibility for personal decisions and actions
• Demonstrates ethical behavior and the moral courage to sustain it
• Understands and respects diversity
• Displays global awareness and economic and civic literacy
• Demonstrates awareness of personal and community health and wellness
The world that our children will inherit will become increasingly interconnected and, with it, our need to expand our notion of citizenship. Our schools are critical players in helping students understand their responsibilities as citizens in the 21st Century.

Regards,
Jeff Porter

Sophomore Aila R is in the process of writing her first graphic novel. Aila met with local children's book author and illustrator (and graphic designer), Teresa Lagrange to help clarify their vision for the graphic novel.
Notices from the Office of the Superintendent
Instructional Support Update
Director of Instructional Support Julie Olsen, presented her annual Instructional Support update to the Board on Monday, March 6. Click Here to view her presentation.
Stay Connected
Subscribe to our District's weekly newsletter by clicking here.
Follow us on Twitter @SuperMSAD51
Like us on Facebook at MSAD #51
Find us Instagram @msad_51
YouTube Channel MSAD #51

MSAD #51 Board of Directors Information
Effective August 22, unless otherwise noted, all meetings will take place at 6:00 pm in the Gyger Room at Greely High School. For those of you unfamiliar with that room, the Gyger Room is where the Board met pre-COVID and can be accessed from the GHS parking lot (the side without the electronic sign).

March 20 - Regular Meeting
Remember you can watch our meetings on YouTube LIVE (http://bit.ly/msad51livevideo).
Links
Meeting Dates, Agendas & Minutes
Board of Directors Meeting Videos

School Building Project
For comprehensive information regarding the Primary School Building Project, please visit the project page at: https://www.msad51.org/apps/pages/building_project
Timeline & History of Primary School Building Project
The Board of Directors has compiled a timeline with historical information regarding the Primary School Building Project. A draft of the timeline can be viewed by clicking HERE.

Community Partners
Our Community Partners are strong supporters of various areas of the school. Without them, our students would not have many of the wonderful opportunities and experiences that they receive.
Sledding Day
The Greely PTO is hosting an afternoon of sledding on Wednesday, March 15th from 2:00-4:00pm at the Val Halla sledding hill. We will have Hot Cocoa and Donuts to share. Just bring your friends and your own sled! Children must be accompanied by an adult. Hope to see friends there.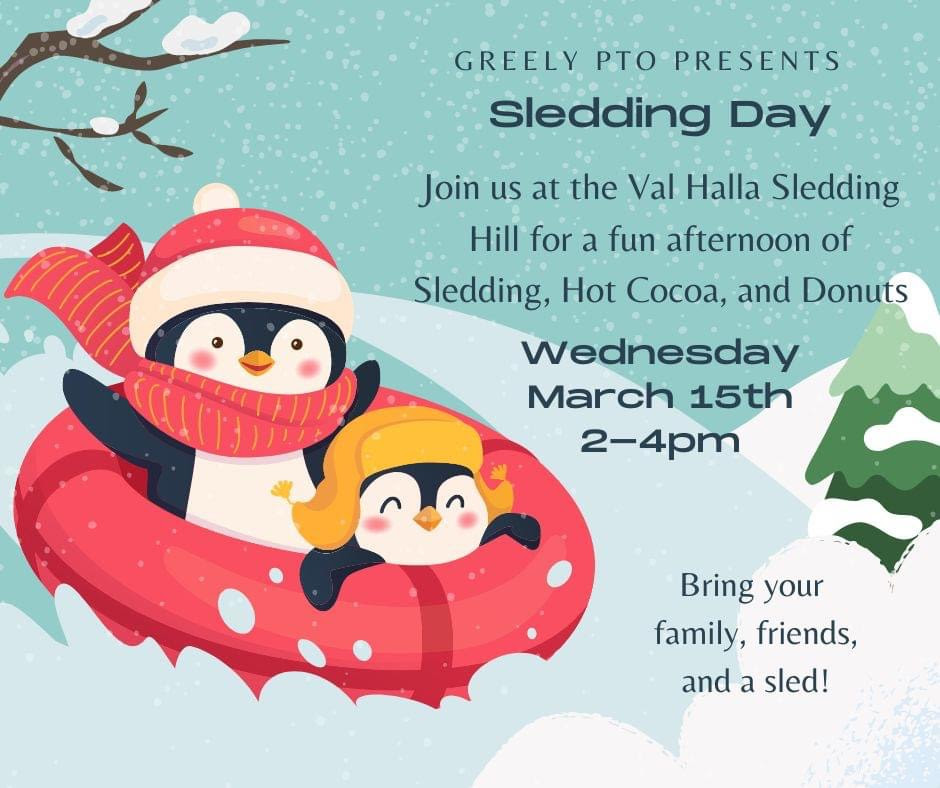 Community Notices
Community Notices are not affiliated with MSAD #51. Please contact the organization directly with any questions. For a full listing of Community Notices, please click HERE.
Useful Links
Greely Center for the Arts Events
If you would like something included in our weekly newsletter, please send a brief write up with title along with a JPEG or PNG image of your flyer (if applicable) to Melissa Porter for approval. The deadline each week is Sunday. Any requests received after Sunday will be reviewed for possible submission in the following week's newsletter. All approved submissions will be posted on the district's website.
Not all items in this email are MSAD #51 sponsored programs. If you need more information, please contact the group or organization that is sponsoring the event.
Maine School Administrative District #51
357 Tuttle Road, PO Box 6A, Cumberland, ME 04021
Contact Us
| 207.829.4800